Smart Themes
Smart Themes adapt to your content automatically. As you create folders and feature images, new layouts and pages are added dynamically to make sure your site always has that "wow" factor.
Borrego stacks photos on top of each other and features widescreen images on the homepage.
Full Screen stretches featured images to fill your browser's window and galleries are presented in a slider/rotator.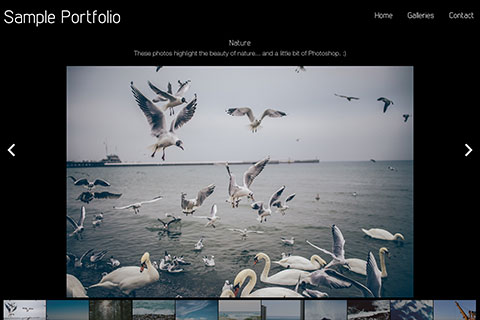 Base is the original FolioHD theme that put FolioHD on the map! Images and videos appear in a slideshow.
Fit Screen contains homepage images to fit within your screen and displays individual galleries in an image rotator.
Scroll Fit - Landscape is great for stories and text-based portfolios as descriptions are displayed alongside the images.
Scroll Fit - Portrait presents gallery thumbnails in a portrait format - great for agencies with lots of headshots!
Scroll Scale - Landscape shows image titles and descriptions next to images inside galleries.
Scroll Scale - Portrait stretches homepage images to fit your browser's window.
Included in every theme...
All themes include variety of color schemes & dozens of fonts options.
(And if you're comfortable with CSS, you can use our built-in CSS editor to fine tune things to your liking.)
Up Next: Pages
Pages turns your portfolio into a full-blown website.
Learn About Pages